David Hush FRSN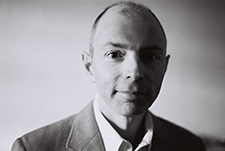 David Hush was born in Bristol, UK and was educated at Clifton College.
After completing degrees in Arts and Music at the University of Sydney, Hush was the first Australian applicant to be awarded a Graduate Fellowship in Music at Princeton. While at Princeton he studied with the influential composer and theorist Milton Babbitt, earning a Master of Fine Arts and a PhD. On completing his PhD Hush remained in Princeton until 1993, when he returned to Australia and took up a composer residency at the Sydney Conservatorium of Music.
As a theorist Hush was the first to recognise the relevance of physicist David Bohm's ideas on the implicate order to music. In 1983 Hush published an article in Perspectives of New Music applying Bohm's ideas to the analysis of a work by Babbitt.
Hush has written works spanning solo instrumental, chamber ensemble, choral and orchestral idioms. They have been performed, recorded and broadcast in North and South America, the UK, Europe, Israel, Australia and South Korea.
Hush has received fellowships and awards from — inter alia — Princeton University, the Hinrichsen Foundation, and the New Jersey State Council On the Arts. In addition, he has received the Ignaz Friedman Prize, was named the first recipient of the Schoenberg Award in 1984, and has received numerous awards from ASCAP.
Hush's Sonata for Violin Solo has been championed by multiple award-winning violinist Zina Schiff, a former protégée of Heifetz. Schiff selected the Sonata as the centrepiece for King David's Lyre, the disc released in celebration of Jerusalem's 3,000th anniversary. The CD was cited as one of the best recordings of the year by the American Record Guide in its critics' choice for 1997. More recently, the Sonata was performed by John Holloway, one of the world's leading Baroque violinists, as part of the Tongyeong International Music Festival in South Korea.
Since the release of King David's Lyre, Zina Schiff has commissioned, performed and recorded more pieces for solo violin. On 7 May 2001 five of these works were played in a live Internet Broadcast from Seattle, USA reaching an estimated audience of 100,000 worldwide.
The premiere of Hush's Contrapunctus was given by James Ehnes and Rivka Golani.
Hush has collaborated with Gary Karr, the world's leading double bass soloist. Hush's composition Evening Rain represents a first for composer and performer alike. To begin with, it is Hush's first excursion into the realm of the electroacoustic; at the same time, it marks Karr's first interpretation of a piece using a pre-recorded soundtrack.
In 1997 Hush was commissioned to write Pictures of Israel, a work for violin, double bass and tabla. The premiere of this piece, on 29 June 1997 in San Diego, saw Zina Schiff joining forces with the acclaimed American double bassist Bertram Turetzky.
The Australian Festival of Chamber Music has featured Contrapunctus as performed by Dene Olding and Irena Morozova from the Goldner Quartet, and Two Songs for Flute and Piano as played by Lorna McGhee and Piers Lane.
On 8 May 2010 Hush's Lullaby for solo violin as performed by Radoslaw Pujanek was included in a concert to commemorate the reopening of the synagogue in Wrocław, an event personally attended by Penderecki.
May 28 2013 witnessed a symbolic handshake between music and science in Australia with the world premieres of two works commissioned by the Australian Academy of Science: Celtic Runes and Largo. They were performed by Virginia Taylor (flute) and Kristen Sutcliffe (bassoon) and were presented by Professor Suzanne Cory FRS, President of the Academy.
On 14 August 2014 the world premiere of Hush's First Piano Trio was given by Goetz Richter (violin), Jeanell Carrigan (piano) and Minah Choe (cello) at the Sydney Conservatorium of Music.
In 2015 Hush was commissioned to write a Wind Quintet for the Sydney based ensemble Windfall, who gave the premiere 21 June 2016.
In 2017 Hush received six world premieres of pieces written for the double bass by Elsen Price in Sydney and Hobart.
Zina Schiff premiered Hush's solo violin piece Dream in Israel 29 October 2017; the premiere was followed by a suite of three more Hush pieces for violin.
On 15 September 2019 Michelle Urquhart and Marco van Pagee gave the premiere of Hush's Contrapunctus No. 2, a newly commissioned work for violin and viola, in Sydney.
On 29 September 2019 the Sydney premiere of Hush's Reflections on Patterns of Light for string trio was given by Three Piece Suite. This event followed three recitals featuring the new work in rural NSW.
In 2019 Zina Schiff commissioned a new work, Prelude and Fugue in D minor for solo violin, that is written in JS Bach's harmonic idiom. It was premiered in Boston on 26 October 2019.
On 27 February 2020 the Royal Society of NSW and the Sydney Mechanics' School of Arts presented a celebration of the 300th anniversary of Bach's solo violin pieces with a lecture by Hush on Bach's enduring popularity and influence. The evening featured performances by award winning violinist Anna Da Silva Chen of Bach's Sonata for Solo Violin No. 1 in G minor BWV 1001 and the world premiere of Partita for Solo Violin (2019), composed by Hush and commissioned by the Royal Society.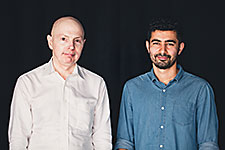 2021 saw the release of Meditation on Wind, Hush's second recorded collaboration with Hamed Sadeghi, a young master of the tar (Persian lute). Together they have created a new blend of world music with the unique combination of classical piano and tar.
In 2020 Hush was commissioned to write a new work in celebration of the 200th Anniversary of the Royal Society of New South Wales. It was premiered by Australian trumpeter John Foster in Great Hall, University of Sydney on 24 June 2022.
Venues in which Hush's music has been presented include the Chicago Cultural Center, the Palace of Fine Arts in Mexico City, Teatro Colón in Buenos Aires and London's Wigmore Hall.